Tisséo takes you
everywhere in Toulouse !
2 metro lines + 2 tram lines + 9 Linéo bus lines and more than 100 bus lines + 14 park-and-ride facilities + 7 bike stations:

TISSÉO IS ALL THIS, AND MORE!

The «Ville rose» has plenty of great sites to see and secrets to discover: cultural and architectural heritage, gastronomy, night-life, etc.

Simple, pratical and economical: the metro, tram and bus lines open up the whole of Toulouse for you.

learn more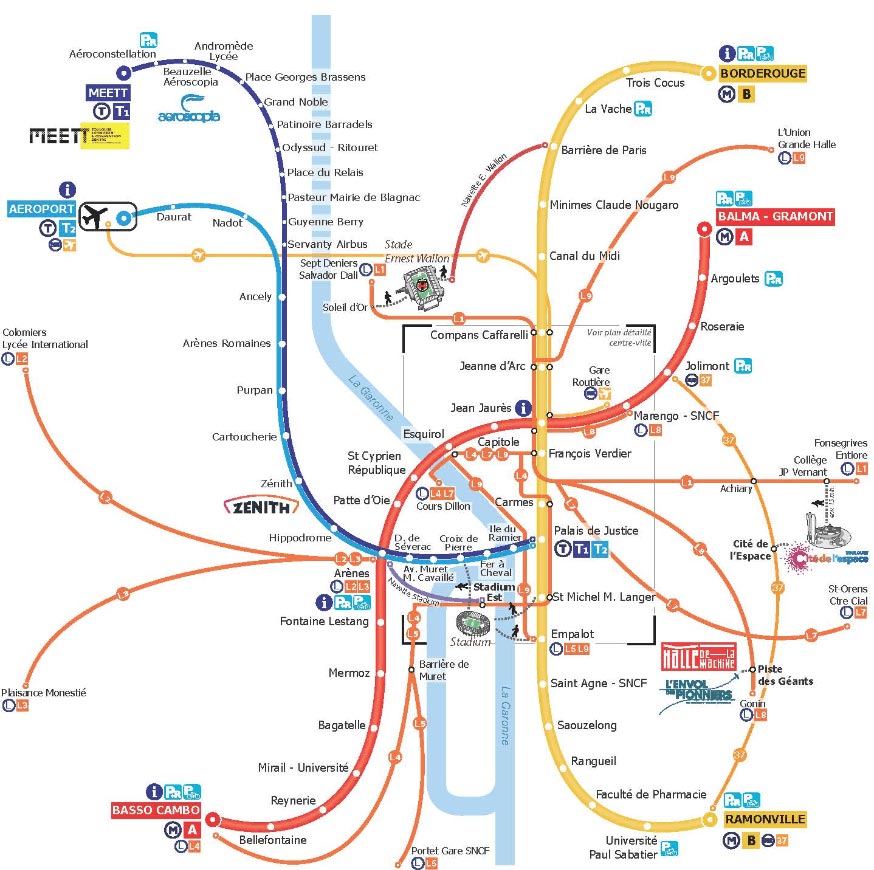 My favourite travel companion: the Tisséo mobile app!
Explore the city:
go here, there, everywhere!
Get the app now to consult the interactive map or plan your route.
Use the « next-bus/next-métro » feature to get the real-time schedules for your line. Thanks to the app's many great features, you'll know the Tisséo network inside out in no time!
Learn more
Price made for you
Travelling alone or in a group?
Unlimited use or just a few trips?
Find the option that suits you.
Learn more
The easy way to get around the city!
PRACTICAL, QUICK, SECURE, FREE

Avec Ticket Easy, achetez votre titre de transport où et quand vous le voulez et validez votre trajet avec votre smartphone Android.
1 déplacement : 1,70 €
1 journey to the airport: €8,50
The airport ticket allows you to travel on the Tisséo Airport Shuttle and on the Tisséo Metro, tram and bus network. You can also buy this type of ticket at automatic ticket dispensers or from the airport-shuttle bus driver.
10 journeys: €14,50
Useful tip : the Tourism Pass
Toulouse Unlimited!
The Tourism Pass is a simple, pratical and economical way to discover the whole city :
Access to all public transport (metro, tram, bus + one return shuttle ride to the airport)/ Free entry to the museums and monuments in the city centre* / More than 30 discounts in various sites devoted to the city's industrial, aeronautical and space sectors, as well for shows and leisure activities and in certain souvenir shops** / A free guided tour (to be chosen from the tours available in the tourist office's programme).
Useful tip : the Tourism Pass!
Free public transport and guided tour of your choice, Free entry to museums and monuments. And many activities at reduced prices.
Pass on sale at Toulouse Tourist Office and Tisséo partner agencies.
| | |
| --- | --- |
| 24H Pass | 18€ |
| 48H Pass | 28€ |
| 72H Pass | 35€ |
TOURIST
OFFICE
Donjon du Capitole Square Charles de Gaulle à Toulouse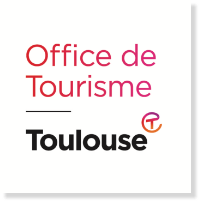 infos@toulouse-tourisme.com www.toulouse-tourisme.com
*Also valid for temporary exhibitions.
A single entry pet site or museum during the validity period of the Tourism Pass.
\**Subject to availability of places.
WHERE CAN I GET MY TOURISM PASS?
• ONLINEon toulouse-tourisme.com.To recover the actual Tourism Pass, simply go to the Tourist Office with the confirmation of your purchase and an ID card.

• À L'OFFICE DE TOURISME DE TOULOUSERendez-vous au Square Charles de Gaulle station "Capitole" (métro ) ou station "Jean Jaurès" (métro ).

• AT THE AIRPORTAs soon as you arrive at Toulouse-Blagnac airport, go to the Tisséo Aéroport agency, exit at the Arrivals Level Gate C opposite the tramway platforms.

• AT THE RAILWAY STATIONAt Matabiau train station, go to the Tisséo Marengo-SNCF MA located inside the underground station. You can find opening hours of the different Tisséo agencies on tisseo.fr.
Culture, sport, heritage…
Get around with Tisséo!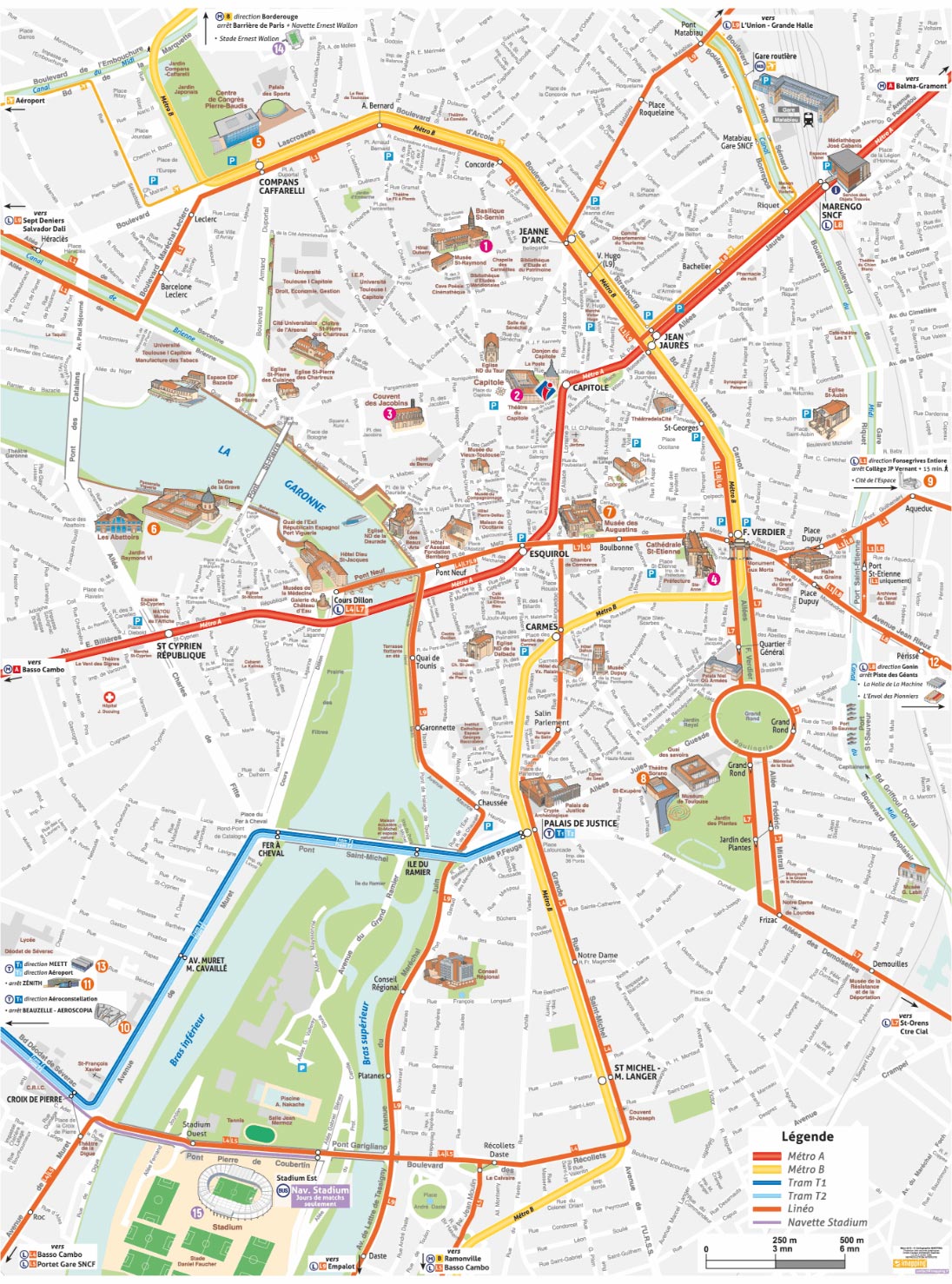 NOT TO BE MISSED
1Basilique St-Sernin

Station Jeanne d'Arc

2Couvent des Jacobins

Station Capitole

3Capitole

Station Capitole

4CATHÉDRALE ST-ÉTIENNE

Station François Verdier
SO MUCH CULTURE
5Centre des congrès

Station Compans Caffarelli

6Les abattoirs, musée-Frac Occitanie Toulouse

Station St Cyprien-République

7Musée des Augustins

Station Esquirol

8Musée de Toulouse / Quai des savoirs

Station Palais de Justice

9Cité de l'espace

Stop Cité de l'Espace

Stop Collège JP Vernant

10Aéroscopia

Stop Beauzelle - Aéroscopia

11Zénith

Stop Zénith

12Halle de la Machine / L'Envol des pionniers

Stop Montaudran Gare-SNCF

+

13Meett : Parc des expositions, centre de convention

Stop MEETT
SPORTING EVENTS
14Stade Ernest Wallon

Shuttle bus from Barrière de Paris, on match days only.

15Stadium

Station St Michel-Marcel Langer

Stop Croix de Pierre

Shuttle bus from Arènes, on match days only.
Visit the largest
modern art gallery:
48 WORKS, 27KM OF METRO LINES,
16KM OF TRAM LINES
Download the ARTéo app: discover Tisséo's underground artistic heritage.
DID YOU KNOW?Tisséo and the Tourist Office organise guided tours: Art in the Metro.More information on: toulouse-tourisme.com
My metro
from image to image
To help you get around more easily, the name of each metro station is supplemented with an identifying image.
" Have a good trip with Tisséo! "